Consider This Seven-day Cultural Safari Itinerary For Your One Week Travel In Tanzania
Some may argue that a seven-day vacation is the most amazing vacation that everyone should try. Why? The majority of the schedules can be accommodated in one week. And if you are a real traveler, you will certainly agree. Safari is well-known for its fantastic deals for those with a limited budget and time. The safari package includes visits to four major Tanzanian parks: Lake Manyara National Park, Serengeti National Park, Ngorongoro Crater, and Tarangire National Park. The 7 Days Tanzania Safari is a popular wildlife safari by many travelers who have a lot of time to spend in Tanzania.
Lake Manyara, Ngorongoro Crater, and Serengeti are three of Tanzania's most beautiful parks that you should visit before deciding where to go; you'll definitely enjoy this one. In this article, we will go over the seven-day cultural safari itinerary.
During one of our unique cultural safaris, you'll get to see the best of Tanzania's northern safaris. The number of animals, predators, and carnivores like the African lion isn't found anywhere else in Africa. It's also very easy to see these animals in Tanzania.
Our 7-day Cultural safari was made for adventurous travelers who want to get close to the African Masai tribes while still getting to see a lot of wildlife. This safari includes visits to Lake Manyara and Serengeti National Parks, Lake Eyasi, and the famous Ngorongoro Crater, which has one of the highest concentrations of game in Africa. Here, you will see an amazing show of African wildlife in a self-contained world full of animals. There will be more to come on this trip. You are going to Serengeti National Park, which is in the heart of wild Africa, a huge area of 14500 square miles, where you can see a lot of different things every day. Visit the Lake Manyara National Park, one of Tanzania's most spectacular wildlife areas. It has a shallow but huge soda lake at the foot of the western escarpment of the Great Rift Valley. If you want to see a salt lake, you can also go on this tour and go to Lake Eyasi. It's located between the Eyasi escarpment and the Kidero Mountains. The Hadzabe bushmen live in the area around Lake Eyasi. They are some of the last hunter-gatherers on the African continent.
COPYRIGHT_SAFARI: Published on https://www.tanzaniawildlifesafaris.com/seven-day-cultural-safari-itinerary/ by Tara Weaver on 2022-04-14T04:10:19.303Z
This seven day cultural safari itinerary is a suggested or sample Tanzanian safari itinerary. You can change it to meet your own needs and preferences, as well as any seasonal changes and animal migrations. As with all of our African safaris, we have given you a wide range of options for where to stay, which affects the total cost of the trip. This way, we can give you the widest range of tour budget options. Please don't hesitate to get in touch with one of our travel consultants if you need any help or more information about any of our Tanzanian safaris.
Non game-viewing travel time: 2½ hours
Distance: 130 km
When we leave Arusha, we drive for two hours to Lake Manyara National Park, which is about an hour and a half from there.
In the afternoon, we go on a game drive in Lake Manyara National Park. We'll have lunch at the lodge and then go on a game drive again. Tanzania's Lake Manyara National Park is one of the country's best-known wildlife areas. It has a huge but shallow soda lake that covers two-thirds of the park and is at the foot of the Great Rift Valley's western escarpment. The park is home to a wide range of African animals, including one of Africa's largest concentrations of elephants, Manyara's famous tree-climbing lions, and large flocks of flamingos that are drawn to the algae in the lake.
Non game-viewing travel time: 2½ hours
Distance: 110 km
Drive to the shore of Lake Eyasi after breakfast. In time for lunch, we get there.
Lake Eyasi is a beautiful, salty lake that is found on the southern border of the Ngorongoro Conservation Area. It is a very pretty place to see. This less-known lake is at the base of the Eyasi cliff on the western rift valley wall. People from an indigenous group called the 'Hadzabe' will show up this afternoon. They are very special, and they live in a very unique way (hunter-gatherer bushmen). The tribe lives on the shores of Lake Eyasi, just like the Datoga tribe, which speaks Nilotic. People from these tribes will show you around their homes, teach you about how they live and hunt animals, show you how to make medicines with herbs from plants, and much more. During walks around the lake, you can see some wildlife and a lot of different kinds of birds. This can be done.
Return to Tindiga Tented Lodge for dinner and a night's sleep after you leave.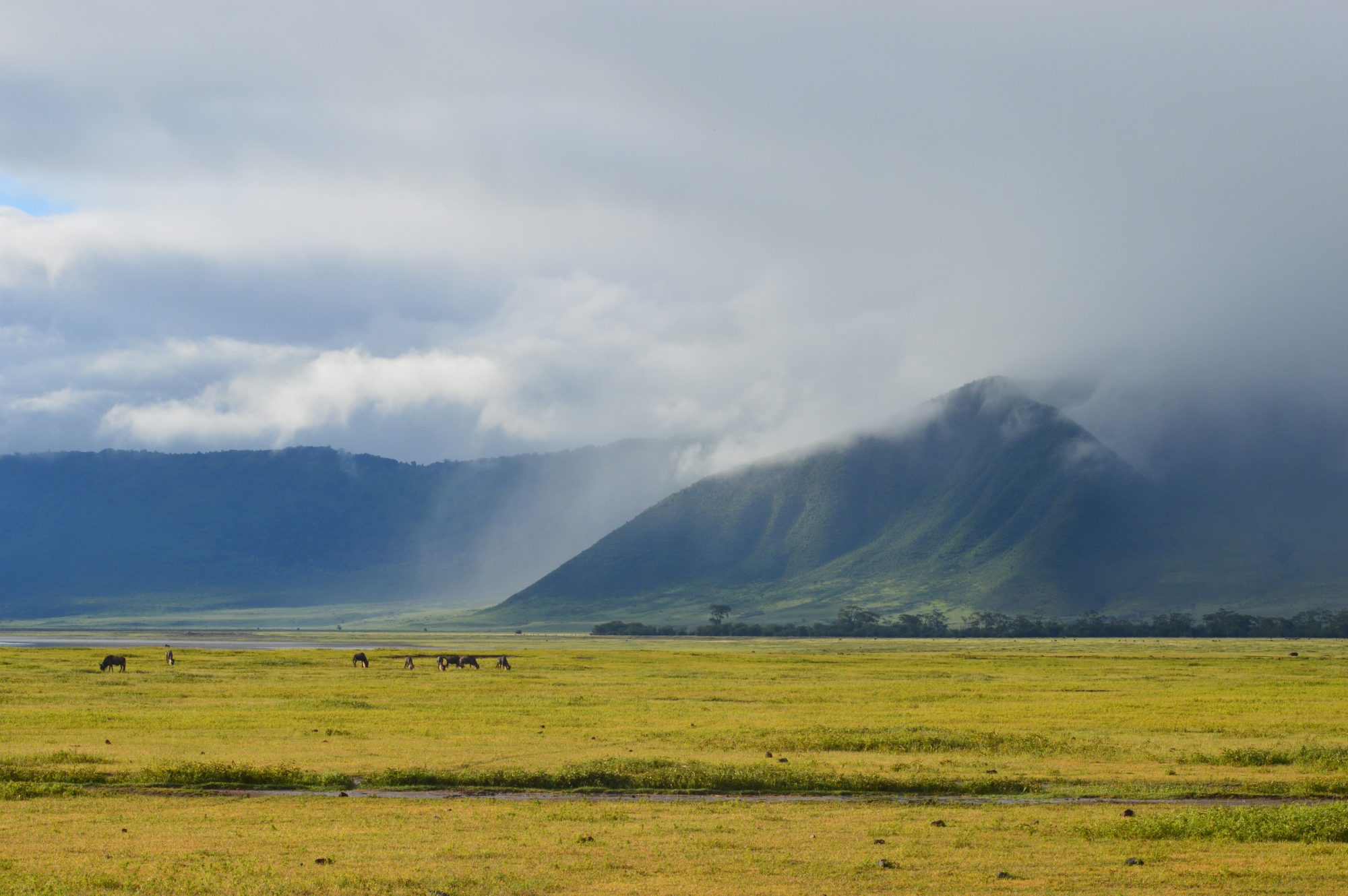 The Lake Eyasi Ngorongoro with its distant animals and the large mountain shrouded in clouds and fog
Non game-viewing travel time: 4 hours
Distance: 150 km
Early in the morning, we go to the village to hunt with the Hadzabe and Datonga tribes. This is not just a show. The bushmen use these skills to stay alive, and you'll need to be very alert and sometimes very quiet as they show you how they use locally made poisons to incapacitate the poor creatures on which they rely for food.
For breakfast, we return to the Tindiga Tented Lodge for a late one. Then, we drive to the Ngorongoro Conservation Area. This is where we stay.
Take a drive to a Masai Village in the late afternoon. Visitor get a sense of the Masai way of life, see the bomas, learn about their prized cattle, and see the school.
Enjoy dinner and a good night's sleep at the Ngorongoro Sopa lodge, where you can stay.
Non game-viewing travel time: 4 hours
Distance: 145 km
It's time for breakfast at the lodge, and then we'll go down into the crater to see wildlife for a half-day tour. The Ngorongoro Crater is home to a wide range of animals, including herds of wildebeest, zebra, buffalo, eland, warthog, hippopotamus, and huge African elephants. It has a year-round water supply and a lot of food for the animals.
Another thing that makes this national park so beautiful is that it has a lot of predators, like lions, hyenas, jackals, cheetahs, and leopards. When we visit Lake Magadi, we'll see one of the most important parts of the crater: a large alkaline lake in the south-west corner. There are usually a lot of flamingos, hippos, and other water birds in this part of the world.
People who have been on this trip have lunch at the lodge. Then, they drive to the Serengeti National Park, which is full of history that goes back as far as the beginning of time. When anthropologists Lois and Mary Leakey were there, they found the skulls of the "Nutcracker Man" and "Handy Man." These skulls are important because they show how humans evolved. For a while, we'll be high up in the hills. Then we'll fall down into Africa's wild heart: the Serengeti National Park. It's a huge area of land that goes on and on and on, stretching as far as the eye can see. Take a late game drive on the way to the lodge.
Enjoy dinner and a night's sleep at the Serengeti Sopa Lodge.
Day 5 is the perfect day for you to go on a Hot Air Balloon flight that you won't forget, then have a delicious champagne breakfast (available at a supplementary cost, but can be booked in advance).
For our game drives in the morning and afternoon, we go to the south-eastern side of the park, where we visit the Barafu Kopjes and the Ngare Nanyuki River area first. After breakfast, we drive around the park. There are lion prides all over the area. The Barafu Kopjes are the best place to look for cheetahs. The Ngare Nanyuki River area is also well known for having a lot of game in it.
Enjoy dinner and a night's sleep at the Serengeti Sopa Lodge.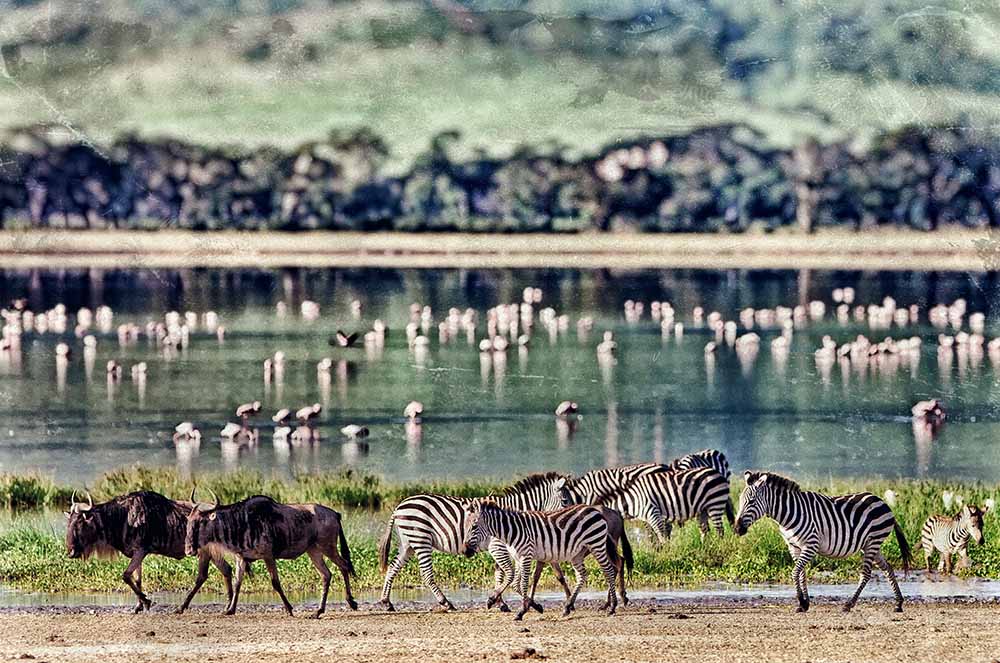 Serengeti Lake Manyara, with two wildebeest and six zebras on land and a group of hippos in the lake
Non game-viewing travel time: 6 hours
Distance: 205 km
Before breakfast, go on a game drive. Our first stop will be the Lake Manyara National Park, where we'll have breakfast and then go. Visit and eat lunch at Gibbs farm, a small lodge on the slopes of the Ngorongoro Crater.
There are tents where we stay for dinner and the night.
Non game-viewing travel time: 2½ hours
Distance: 130 km
Then after breakfast, we'll go to the local market and villages around Karatu. We'll get to know the people in the area and learn about their culture, farming, and history.
For lunch, we go back to the lodge. Then, we drive back to Arusha, where our African safari adventure ends.
The group should give the guide about $ 20 to $ 30 per day in tips. To end our safari, we will drive you to your hotel.
Notice: This itinerary may change at any time because of local weather or park rules. The order in which the places are visited could also be changed by the guide.
The Ngorongoro Crater
Located in an incredibly unusual setting, this fantastic Tanzania safari site provides exceptional game viewing opportunities. As a result, it is recognized for providing some of the easiest and most dependable Big 5 sightings in East Africa, and it also offers what is perhaps the best Tanzania safari experience.
Tanzania is one of the poorest countries in the world. The people there are very poor. The cost of living is low, so you can go on a trip to Tanzania without having to spend a fortune. When you go on safari or plan to climb Mount Kilimanjaro, the costs will go through the roof.
It costs about $ 200 per person, per day, to go on a Tanzania safari. From $ 350 per person per day, the midrange price is. Prices for a Tanzanian Luxury Safari start at $ 600 per person, per day, and go up from there.
Below, we have broken down the costs by destination, time of year, accommodation, add-on safaris, and mode of transportation for each.
Went On A Private 7-Day Safari in Tanzania!
Amazing! This seven-day package is entirely unique, and it is without a doubt the best deal we should consider when arranging a trip to exotic locations such as the African safari. If you decide to visit Tanzania, you may use this seven-day cultural safari itinerary as a guide. What you've read in this article is exactly what you'll see and experience during your Tanzania safari.
It is my wish that you have a pleasant vacation experience in Tanzania Safaris this year.
Share:
Twitter

|
Facebook

|
Linkedin