Two Of Tanzania's Most Visited Safari Holidays Destinations
Tanzania safari holidays are all about excitement and fun, adventures, and unforgettable moments that will stay with you for a long time to come. Enjoy the solid, natural beauty of Tanzania's huge national parks. By visiting the two famous destinations in Tanzania, you'll see wildlife and nature that you've never seen before.
We are happy to provide safari vacations in Tanzania, ranging from self-camping experiences to luxury safari resorts and mobile camps. Personalized safari itineraries are our specialty. There are simply too many wonderful safari vacation spots to feature them all here.
A smart place to start is by deciding on the type of safari you want and the creatures you want to see. Depending on the time of year, some game parks and places may be better suited than others. If you want to view the greatest of Tanzania's wildlife in the best possible conditions, our experts are here to guide you.
COPYRIGHT_SAFARI: Published on https://www.tanzaniawildlifesafaris.com/safari-holidays/ by Tara Weaver on 2022-03-09T06:38:40.634Z
Tanzania Wildlife Safaris.com has put together a detailed list of safari trips to all of Tanzania's national parks and game reserves, so you can choose the best one for you. All kinds of safari vacations are possible, from one-day trips to eight-day trips. These sample itineraries cover a wide range of options. Those are examples of some of our most popular safari plans, but you can change them to fit your own preferences or needs.
Tanzania Wildlife Safaris.com can also make a safari for you that is just for you. We can help you plan a safari trip that fits your interests, comfort, and budget. Please contact us for more information.
The safari holidays on this page are just a small sample of the many different ways you can go on a safari. Please click on the links above, which will take you to the safari holiday itinerary that we have chosen for you. In addition to the Tanzania itineraries above, you can use them as a guide to make your own trip to fit your own dates or group size, too!
Here are the two most common vacation destinations; there are many other places to visit that will make your vacation fulfill.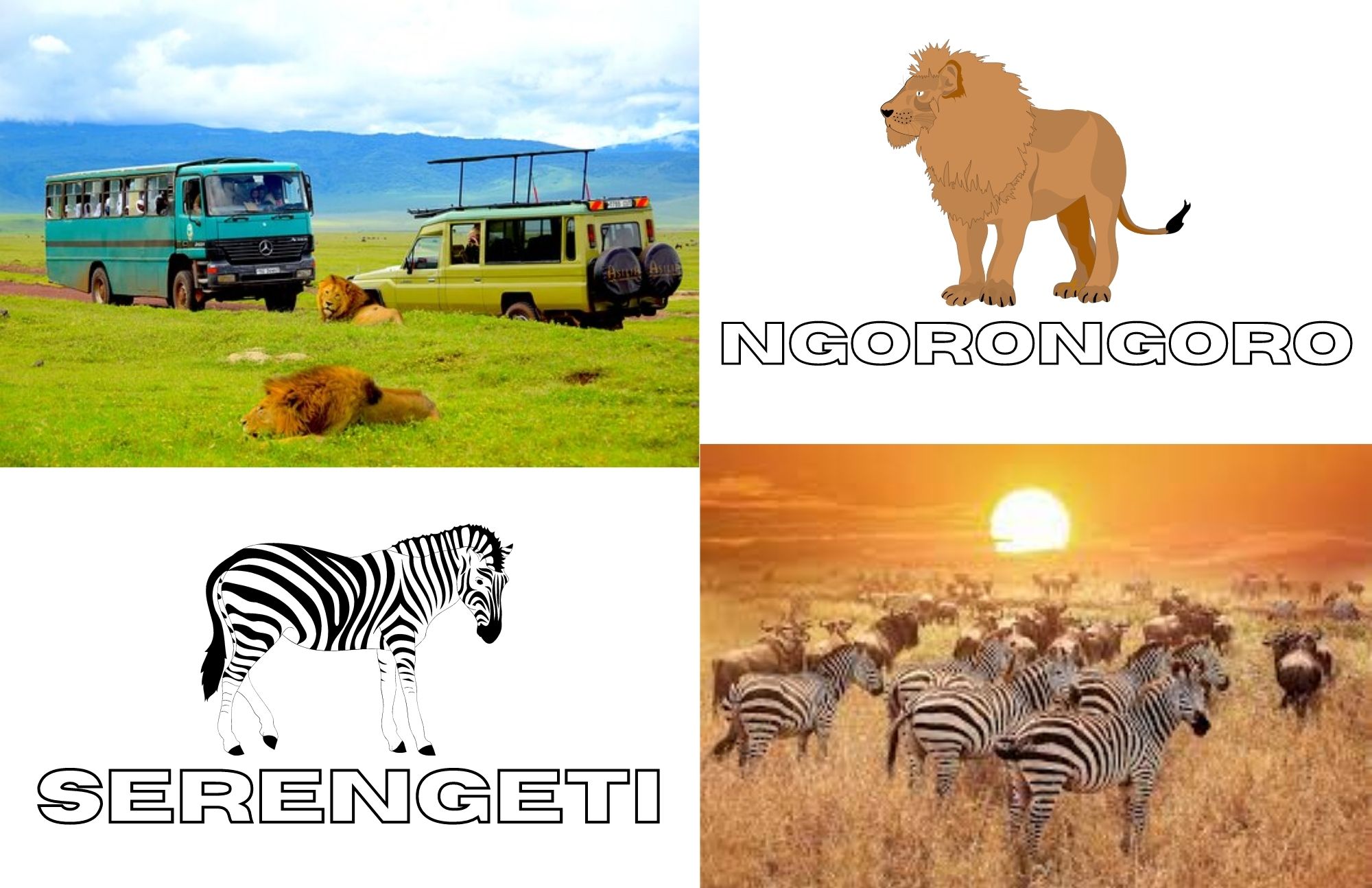 The Ngorongoro Crater in the upper left corner and the Serengeti in the lower right corner, including zebra and lion artwork
1st DAY: Arusha
Transfer to your hotel when you arrive.
2nd DAY: Arusha to Karatu
Take off for the highlands near the

Ngorongoro Crater

. You'll arrive at your lodge in the Karatu district in time for lunch. The afternoon is yours to do as you please.
Alternatively, you might want to add an experience or drive through Lake Manyara National Park for a game drive with a picnic lunch on the way. You can talk to your travel agent about this.
3rd DAY: The Ngorongoro Crater
A full day of game drives is planned for the Ngorongoro Crater. You'll drive there and descend through the early morning mists into its beautiful landscapes. The Ngorongoro Crater was formed millions of years ago when a huge volcano fell on top of itself. It has one of the most dense animal populations in East Africa.
4th DAY: Karatu to the Serengeti NP
Take a trip to the Serengeti National Park, where you can see a lot of wildlife on the way. Arrive at your camp for lunch, then take a game drive in the afternoon.
Big 5: Elephant, lion, rhino, leopard, and buffalo can all be seen in the Serengeti's huge plains. There are also many chances to see the Big 5 together.
5th DAY: Serengeti NP.
Spend today going on morning and afternoon game drives in the Serengeti. You can choose to skip today's morning game drive and go on a hot air balloon safari at sunrise, then have a bush breakfast with sparkling wine. This is the best way to see wildlife in Africa.
6th DAY: Serengeti National Park to Arusha
Take a small plane back to Arusha in time for lunch. It's also possible to fly straight from the Serengeti to Zanzibar. Ask your travel agent for more information.
It's a great way to see two places that everyone should see, the stunning Ngorongoro Crater and the magnificent Serengeti, in one private safari.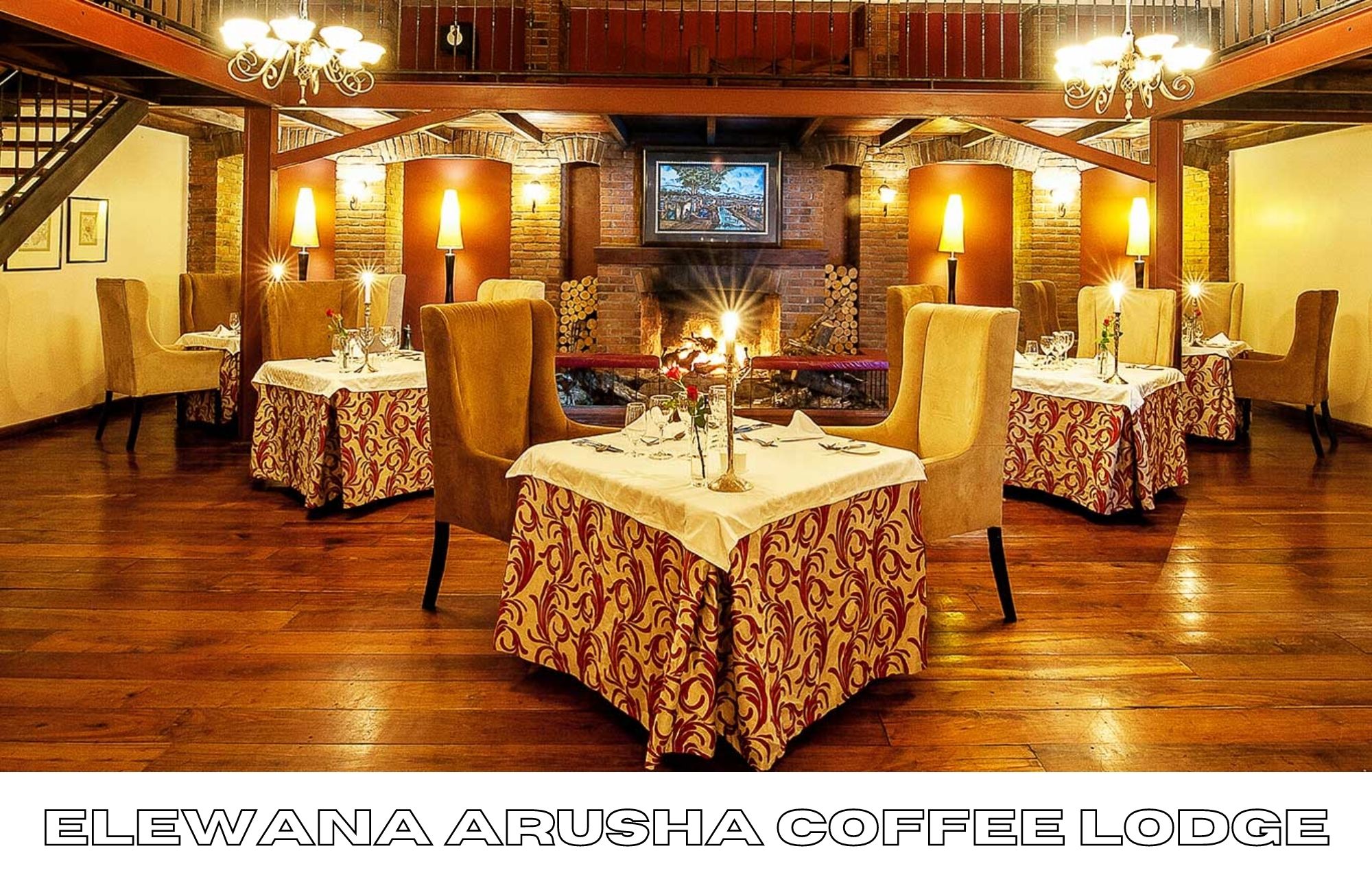 Elewana Coffee Lodge's interior features well-designed table and chairs, two chandeliers, and orange-yellow lighting
1st DAY: Arusha
As soon as you arrive, move to the 4+ Boutique Elewana Arusha Coffee Lodge, which is near the city.
2nd DAY: Arusha to Tarangire NP
Coffee plantations and the Shanga workshop are both places where people with disabilities are hired to make new things out of old things.
Dinner in the garden. Take a flight to Tarangire and drive to the five-star Elewana Tarangire Treetops, where you'll get to see a lot of wildlife on the way.
3rd DAY: Tarangire NP
During the day, there will be a lot of activities. There will be game drives, a game walk, a visit to a real Masai village, and sunset drinks in the bush.
4th DAY: Tarangire National Park to Karatu
You'll learn about Tarangire National Park during a game drive in the morning. You'll also stop for a picnic lunch in the middle of the park. We will then go to the airport.
The airstrip in Manyara is where you can get off the plane and land. Once you get there, take a taxi to the 5 Elewana hotel. At Ngorongoro in the Karatu area, there is a highland manor. The high tea was ready when we arrived.
5th DAY: Lake Manyara National Park
You should go to Lake Manyara National Park in the morning to drive through the park and see the animal there.
Take a nap by the pool or get a free spa treatment in the afternoon when you stay at the hotel If you want, you can also go for a walk around the estate on foot or with your horse (supplement applies).
6th DAY: Ngorongoro Crater In the Ngorongoro Crater, you can go on full-day game drives with a gourmet picnic lunch. This is a great way to spend your day.
7th DAY: Karatu to Serengeti Park
In the afternoon, you can fly to the Serengeti and then enjoy a game drive on your way to the 5 Elewana Serengeti Migration Camp or the 5 Elewana Serengeti Pioneer Camp.
8th and 9th DAY: Serengeti NP
If you go to the Serengeti for two days, you get to see a lot of great wildlife.
7th DAY: Serengeti NP to Arusha
Fly to Arusha to get back there for lunch. Then, go to the airport and book your next plane ticket.
ARUSHA COFFEE LODGE - ELEWANA COLLECTION
THREE NATIONAL HOLIDAYS
At the moment, Tanzania has seventeen public holidays. There are eight religious holidays, three national holidays, two commemorating the death anniversaries of the founding leaders of its constituent states, and the rest of them are important to the country as a whole.
New Year's Day

: January 01, 2022 (Saturday)

Zanzibar Revolution Day

: January 02, 2022 (Sunday)

Karume Day

: April 07, 2022 (Thursday)

Good Friday

: April 15, 2022 (Friday)

Easter Sunday

: April 17, 2022 (Sunday)

Easter Monday

: April 18, 2022 (Monday)

Union Day

: April 26, 2022 (Tuesday)

Labour Day:

May 01, 2022 (Sunday)

End of Ramadan (Eid al-Fitr)

: May 02, 2022 (Monday)

Saba Saba Day

: July 07, 2022 (Thursday)

Feast of the Sacrifice (Eid al-Adha)

: July 09, 2022 (Saturday)

Nane Nane Day

: August 08, 2022 (Monday)

Maulid Day

: October 08, 2022 (Saturday)

Nyerere Day

: October 14, 2022 (Friday)

Independence Day

: December 09, 2022 (Friday)

Christmas Day

: December 25, 2022 (Sunday)

Christmas Day

: December 26, 2022 (Monday)
Safari holidays destinations are a dream come true for anyone who wants to learn more about wildlife and nature. The itinerary that we've shown you is what you should expect and what you'll experience if you visit our safari during the holidays.
Share:
Twitter

|
Facebook

|
Linkedin