Two Day Safari Itinerary- Perfect Package For Your Limited Budget And Vacation Time
Don't have enough money to travelbut yet want to have a good time? or you have enough money but not enough time to stay on vacation but still want to enjoy it? Start and finish in Arusha! Arusha, Tanzania, and three other places in Tanzania are all part of the Safari tour Two Day Safari To Lake Manyara and Ngorongoro. You get to go on a two-day tour package. A two-day safari to Lake Manyara and Ngorongoro includes a hotel, a guide, meals, transportation, and a lot more.
This article will go over a two-day safari itinerary. It is ideal and excellent for individuals who have a limited financial means. I'll give you a high-level overview of the incredible package that Tanzania is offering.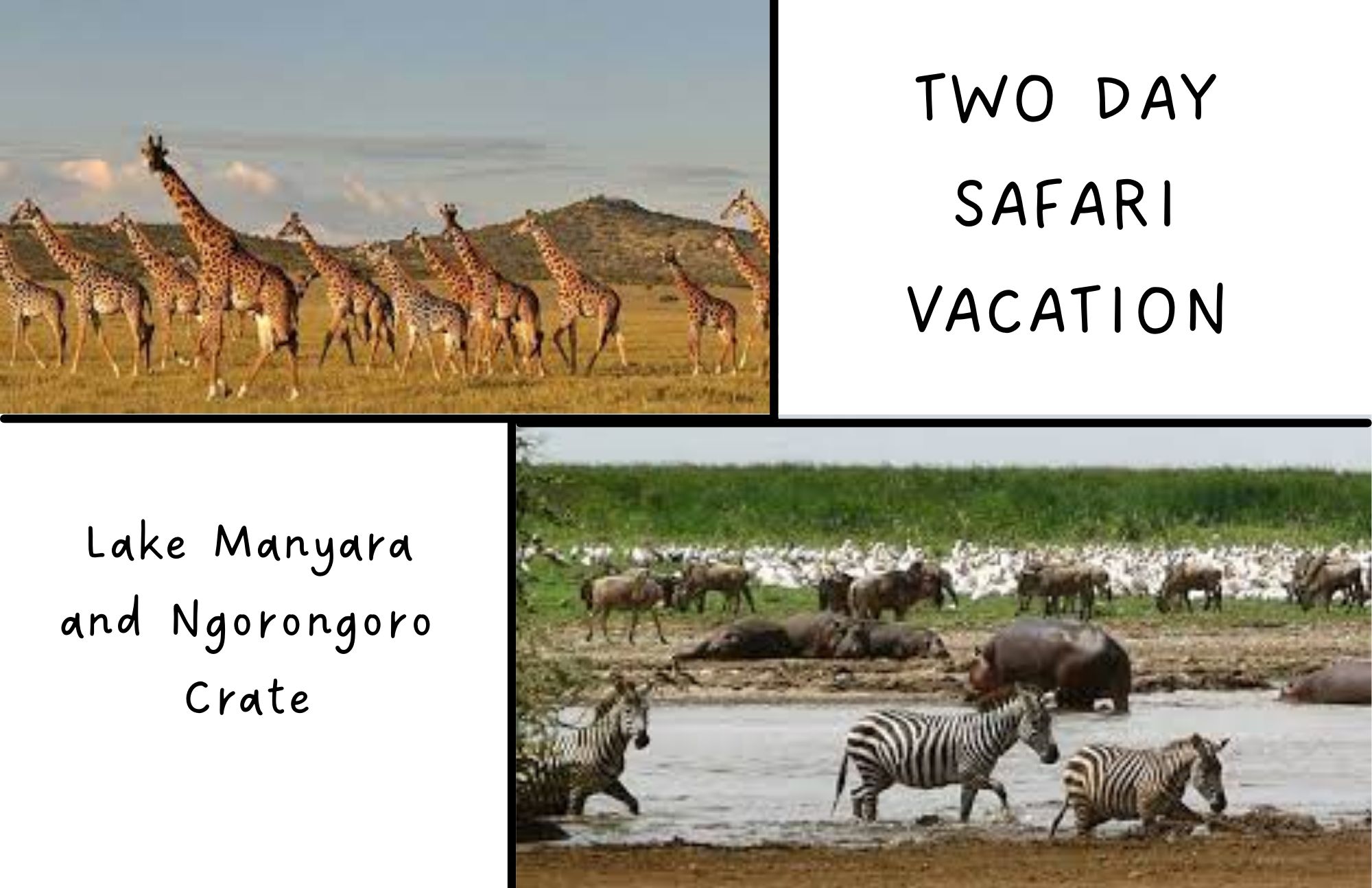 Lake Manyara with 12 Girrafes walking in the upper left corner, and the Ngorongoro Crater with zebras, hippopotamuses, and wildebeest walking in the lower right corner
Our two-day Lake Manyara and Ngorongoro Cratersafari packages were made for people who have a limited amount of time but still want to see a lot of wildlife in Tanzania. During your safari in Tanzania, you will be able to see African wildlife and even take pictures. You will visit two of the country's most beautiful national parks.
One of the best things about this African safari tour is that it will take you to the Ngorongoro Crater, which is home to one of the most animals in Africa. Here, you will see an amazing show of African wildlife in a self-contained world that is full of animals. Your tour will also take you to Tanzania's Lake Manyara National Park, which is one of the country's most beautiful wildlife areas. It's made up of a shallow but huge soda lake at the foot of the Great Rift Valley's western escarpment, and it's a great place to see a lot of wildlife. These two parks, Lake Manyara and Ngorongoro Crater, are both big enough for our shorter safaris or a trip to take great pictures.
This is a sample or suggested Tanzanian safari itinerary. It can be changed to fit your needs and preferences, as well as changes in the weather or animal migrations. As with all of our African safaris, we have given you a wide range of options for where to stay, which affects the total cost of the trip. This way, we can give you the widest range of tour budget options. Please be aware that there is no place to stay inside the Ngorongoro Crater National Park.
Please don't hesitate to get in touch with one of our tour consultants directly if you need any help or more information about any of our safaris, tours, travel, or other trekking packages.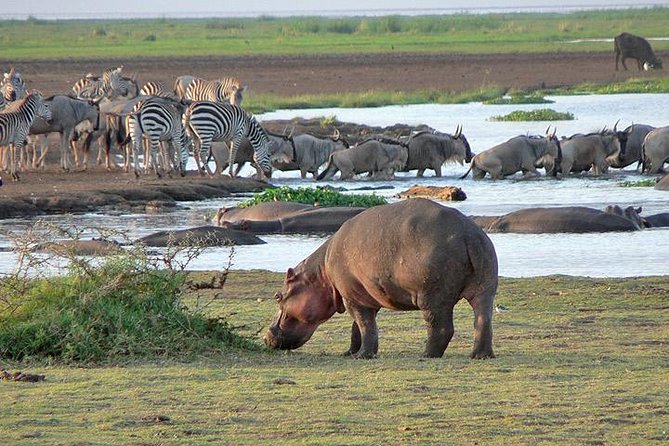 Arusha Lake Manyara, with wildebeests and zebras crossing the lake and hippos submerged in water, one of which is eating/smelling grass
Non game-viewing travel time:2 ½ hours
Distance:130 km
Meet our tour guide and driver in Arusha, Tanzania. They will give us a short safari information talk, and then we'll drive to Lake Manyara National Park. In time for lunch, we get there. It's time for us to go to the Lake Manyara National Park after our lunch.
A huge but shallow soda lake covers two-thirds of this Tanzanian wildlife park, which is at the foot of the Great Rift Valley's western escarpment. This is one of the country's most impressive wildlife areas. In the park, you can see a lot of different kinds of animals. Elephants, Manyara's famous lions, and flamingos flock to the lake because of the algae in it, which attracts them.
It will be served and slept in based on the standard and type of accommodation that was chosen.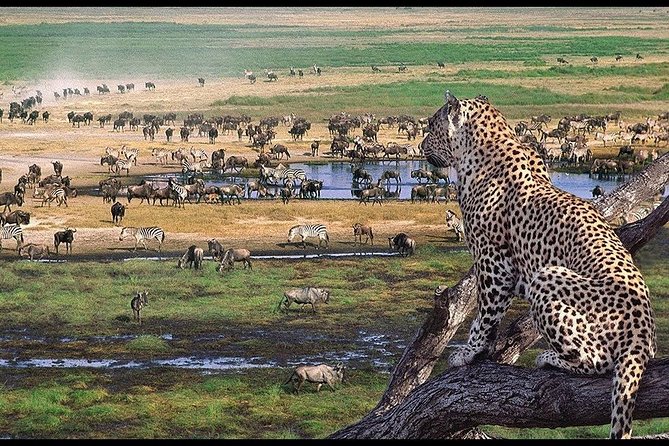 The Arusha Ngorongoro Crater, with many wildebeests and zebras, and one cheetah sat on a tree branch watching them
Non game-viewing travel time:2 & 4 hours
Distance:60km & 190 km
Our morning game drive starts after breakfast. We go down 600 meters into this beautiful crater for a morning, half-day drive. If you want to see a lot of African wildlife, you should go to the Ngorongoro Crater. It has 30,000 animals, including Tanzania's last black rhino.
The Ngorongoro National Park is home to a wide range of animals, including herds of wildebeest, zebra, buffalo, eland, warthog, hippopotamus, and huge African elephants. It has a year-round water source and a lot of food for the animals. Another thing that makes this national park so beautiful is that it has a lot of predators, like lions, hyenas, jackals, cheetahs, and the leopard, which can be hard to spot at first. We will have a picnic lunch in the crater. Then we will drive back to Arusha, where our African safari adventure ends.
During all of our safaris, the group should give the tour guide about $20 a day in tips. You will be driven to your hotel, which is the end of our safari package service.
The departure dates for all of our African safaris, tours, and package deals are completely up to you. Safaris, tours, and travel packages to Tanzania can be found by contacting us for more information and more specific details.
A night on an African safari can cost between $125 and $1,500 per person. A budget safari costs $150 per night, a mid-range safari costs $350, and a luxury safari costs $750. Extreme top-safaris can easily cost $1,500 or more per night! Every budget can find a safari to suit them.
You often see it as the first stop on a longer safari tour, or as the first stop before going to the nearby Ngorongoro for a longer safari. So, it's a great place to be!
There are so many trees and plants, and you can see a lot of animals that you won't be able to see at the bigger parks. Visit Manyara to see a groundwater forest that is very different from other forests.
The Ngorongoro Conservation Area is worth a look if you're in the area. Even though it's not part of Serengeti National Park, it's still worth a look. People visit the site to see the Ngorongoro Crater, which is the world's sixth-largest volcano caldera that is still intact. The Olduvai Gorge is also there.

2 Day Ngorongoro Crater Lake Manyara Tanzania Safari $380.- USD
Isn't this absolutely perfect? What I like best about this package is that the person who created it is very understanding. This package is ideal for those who do not have a lot of money and who cannot afford to stay in Tanzania for a long period of time but still want to enjoy themselves for two days.
Visiting Lake Manyara on Day 1 and the Ngorongoro Crater on Day 2 is truly incredible! You will see different types of animals, and if you are privileged, you will be able to witness the migration of wildebeest, which will also leave you speechless.
I've discussed the two-day safari itinerary with you, all you have to do now is follow it and you'll be set for your two-day vacation in Tanzania!
Share:
Twitter

|
Facebook

|
Linkedin