Tanzania Travel Information- Ideal Dates And Accommodation Prices In 2022
When the pandemic started, most scheduled travels in Tanzaniawere canceled, and terrorism in other countries was widely spread, forcing the cancellation of reservations.
However, we are no longer in complete lockdown, and many locations have approved the request of many people to continue providing service. Tanzania travelinformation is provided below.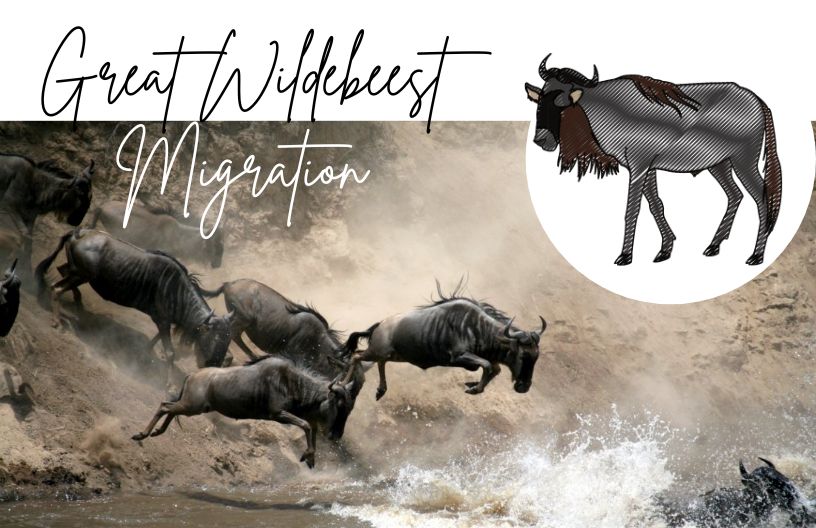 The Wildebeest Migration moving quickly across the water, with an artwork of a wildebeest in the upper right corner
To start your Tanzania safari any day you want is easy because all our Tanzania Wildlife Safarisare private, so we can do it on any day that you want! We have Tanzania wildlife safaris and trips that leave almost every day of the year, so we can be very flexible when it comes to safari departure dates. If you want to go on a safari in Africa or Tanzania, you can ask for a specific departure date. We will do our best to make that happen, if we can, but it may not be possible. Obviously, this will make your whole vacation package much more flexible and easy to plan.
Sample itineraries of some of our most popular safaris and wildebeest migrationtrips are shown on our Tanzania safaris site. All of our sample safari itineraries can be changed to meet the needs of each person, as well as to account for seasonal changes and animal migrations. Please contact Tanzania Wildlife Safaris if you have any special requests for a tour.
To go on safari in Tanzania, the best time to go is when the weather is nice.
Any time of year would be good to visit Tanzania. The peak season is from June through February, but it's a good time to visit all year long. It's also the best time to visit the islands of Zanzibar, from June through February. March, April, and May are the least popular times to visit the islands of Zanzibar, though.
As with all of our Tanzania safaris, tours, and treks, Tanzania Wildlife safaris has provided you with a wide range of affordable accommodations. This means that your total safari and vacation costs will be lower, giving you the widest range of tour options. Please click on the safari price links above to see prices for all of our sample itineraries. You can also contact us for prices on custom safari trips or vacation tours.
In most of our safari itinerary prices, we'll let you choose from luxury lodges, semi-luxury lodges, and standard lodges. You can also stay in tents at public campsites for a cheaper price. Hot air balloon rides, canoe trips and visits to crafts centers and cultural villages can all be added on to your tour for an extra fee.
A Tanzania safari typically costs $200 USD per person per day.
The cost of a Tanzania safari is $200 per person per day.
The mid-range price starts at $350 USD per person per day.
Tanzania Luxury Safari costs start at $600 USD per person per day.
If you are not aware, Tanzania is one of the world's poorest countries. Everyday life is affordable, and you can travelto Tanzania without breaking the bank. Sleeping, eating, and getting around are all inexpensive, but costs skyrocket when you go on safari or organize a Kilimanjaro climb.
With some experience leading safari groups, the average person wants to spend no more than two or three days on safari to make the experience truly enjoyable. If you want to go to other parks, keep it to no more than five days total.
We are delighted to see you again and to share our experiences of environment and wildlife with you! This Tanzania travel information provides you with the assurance that you will be able to continue your journey to this wonderful country.
Allow our knowledge in African and Tanzanian wildlife safaris to guide you in making your travel a success.
Share:
Twitter

|
Facebook

|
Linkedin